Virginia Mayhew
Saxophonist-composer-arranger-bandleader Virginia Mayhew has been an active participant in the New York jazz scene since 1987. In the course of her career, Virginia has worked with such renowned artists as Earl "Fatha" Hines, Cab Calloway, Frank Zappa, James Brown, Norman Simmons, Al Grey, Junior Mance, Toshiko Akiyoshi, Doc Cheatam, Joe Williams, Leon Parker, Clark Terry, Kenny Barron, Chico O'Farrill, Ingrid Jensen, Claudio Roditi, Nnenna Freelon, and many others. 
Virginia has appeared in most of New York City's jazz venues, as well as performed extensively throughout the United States, Europe, the Newly Independent States, the Caribbean, Bermuda, Australia, and Southeast Asia. She has also performed at many jazz festivals as a leader, and traveled twice as a Jazz Ambassador for the U.S State Department–once to the Newly Independent States, and a second tour to Southeast Asia. 
Virginia has seven recordings as a leader, and many with other musicians. She works frequently around NYC with her quartet and septet, both of which include many of the finest musicians on the NYC jazz scene. Her latest recording, "Mary Lou Williams - The Next 100 Years" honors pianist/composer/arranger Mary Lou William's 100th birthday with fresh arrangements of Mary Lou's music, a recording and an international tour. 
Virginia is also the Musical Director/saxophonist/arranger of the 9-piece Duke Ellington Legacy and of the Duke Ellington Legacy Big Band, groups led by Duke Ellington's eldest grandson, Edward Kennedy Ellington II, who was on the road with Duke. Both groups are dedicated to keeping Duke's music alive and moving forward through performance, recordings and education, and both feature piano legend/composer/arranger Norman Simmons and other top New York City musicians. The Duke Ellington Legacy released its debut recording, "Thank You Uncle Edward" in 2008 and will record again in the Fall of 2011. (For more information, please visit: www.dukeellingtonlegacy.com.) 
In addition to her own groups and the Ellington Legacy Bands, Virginia works frequently with Brazilian trumpet and flugel-horn player Claudio Roditi, 5-time Grammy-nominated vocalist Nnenna Freelon, the Howard Williams Big Band, Carl Thompson and Friends, and other NYC groups. 
Virginia is also part of an exciting new project, "Dreamin' the Duke", featuring Nnenna Freelon and classical soprano Harolyn Blackwell, with arrangements by pianist Mike Garson, and backed by a rhythm section, 3 horns and a string quartet. "Dreamin' the Duke" had its debut at the Kennedy Center in Washington, D.C. and appeared recently at the Tanglewood Jazz Festival, and various venues within the United States. 
In addition to performance, Virginia has established her credentials in the field of jazz education, both as a private instructor and as faculty at numerous jazz camps, (including New Jersey Performing Arts Center's "Jazz for Teens" program, Stanford Jazz Workshop, Monterey Jazz Festival summer camp, Litchfield Jazz Camp, and Jazz Camp West). She is also an experienced clinician and Artist-In-Residence, (Univ. of Massachusetts, Univ. of Louisville, Bloomington Univ, Williams College, Coe College and others). She has traveled around the globe working as an adjudicator, teaching master classes, and working with school ensembles large and small. Virginia also founded the highly successful Jazz Workshop at the Greenwich House Music School in NYC.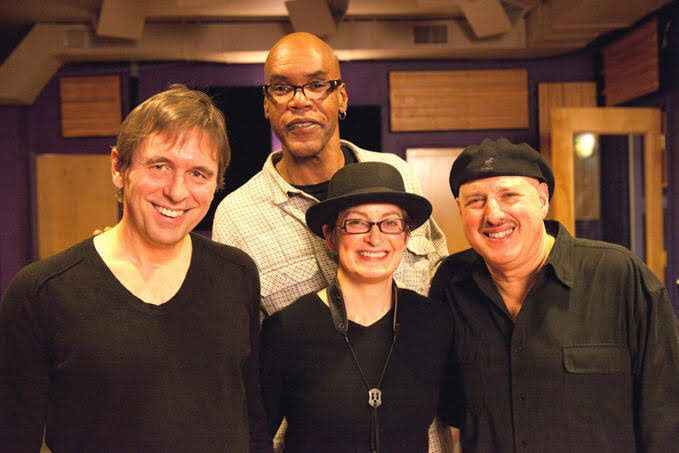 WHAT THE CRITICS ARE SAYING ABOUT VIRGINIA MAYHEW 
A Simple Thank You (2007) 
"Thank You Uncle Edward" and "A Simple Thank You" . . . are both gems . . .with fantastic musicianship . . . wonderful arrangements . . . and great style. Kudos to all concerned! Bob Collins, WRHU 
A SIMPLE THANK YOU for making such a hip record. It'll be on the air at 'BGO in the next couple of days. I'm going to hum the parking fairy song next time I need a space. Thanks for the tip. Best, Gary Walker, WBGO Jazz 88 
Sandan Shuffle (2006) 
"Who's this Virginia Mayhew woman anyway, Dexter Gordon's daughter? Sonny Rollin's niece? She plays the saxophone like a blood relative of those two giants..." Dan McClenaghan, ALL ABOUT JAZZ 
"The exciting music on Sandan Shuffle is turned around and played with a loquacious spirit, swinging with a delightful sensibility and even shuffling...Mayhew blows with controlled abandon." Jerry D'Sousa, ALL ABOUT JAZZ 
"..refinement as well as force, contemplation and grace as well as power - all qualities evident in Mayhew's playing. Generations of reed players can be sensed and heard in her work...she has welded her influences into a singular style: plaintive on ballads, assertive on Blues." Michael Steinman, CADENCE